Now available: a photo-rich how-to manual for my gummy stained glass technique!
Flexible, Edible Stained Glass eBook: only $15 at Gumroad
Also available at Craftsy.com.
This book will take you through the basics of making your own gummy candy, complete with three different recipes that give decorators literal and figurative flexibility in their designs. Next, it shows you how to turn those basics into fantastic results that will have everyone asking, "How on Earth did you do that?" Step-by-step photos and instructions illustrate just how easy it is to be creative and have fun with the newest medium in the sugar arts world.
The front and back cover plus Table of Contents are below. Click to enlarge.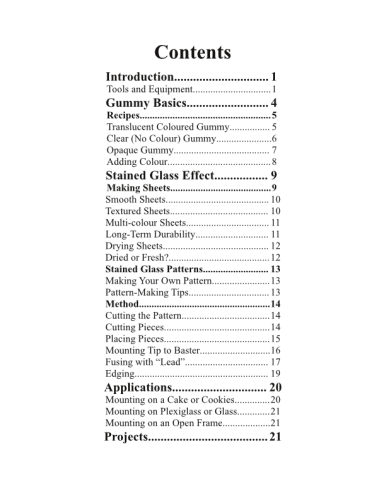 It is 29 pages in PDF format (cover to cover) with no digital rights management in order to be viewable on a variety of devices and allow for printing of the included patterns. I am hoping buyers will honour that in return by not spreading it around unfairly. Please let me know if you see it for sale or being distributed elsewhere!
---
Equipment/Ingredient Shopping
Listed equipment may cease to be available, or new products may pop up. Here's a list of items I have personally used and recommend. Unless otherwise noted, I have not received any payment, endorsement, or communication for recommending these products. If you notice anything no longer available for sale, please say so in the comments.
---
Errata/Updates
Update: I have tested this technique using DecoGel by Icing Images and determined this new commercial gummy medium can be used, but because it doesn't dry, fully fuse together, and may have some colour bleeding, there are some important limitations and caveats. See my full review post of DecoGel here.
Update: in one of my classes teaching this technique, a student asked if they could use scissors instead of an X-Acto knife because she found the knives uncomfortable in her hand. The answer turned out to be yes. She was able to use small, very sharp scissors to cut her sheets just fine. An X-Acto blade gives a smoother cut, especially on curves, and is still the best way to remove error blobs of the leading, but if you don't have one or don't want to use one, scissors do work. Just be sure to handle your sheets carefully to avoid fingerprints.
Update: I've posted a report on how long this medium stays flexible. Short answer: about five months until it starts cracking, and by seven months it's brittle.
---
Flexible, Edible Stained Glass eBook: only $15 at Gumroad
Also available at Craftsy.com.