Now available: a beginner-level fondant guide to making Cute and Easy Turkey Cakes!
Cute and Easy Turkey Cakes eBook: only $4.99 at Gumroad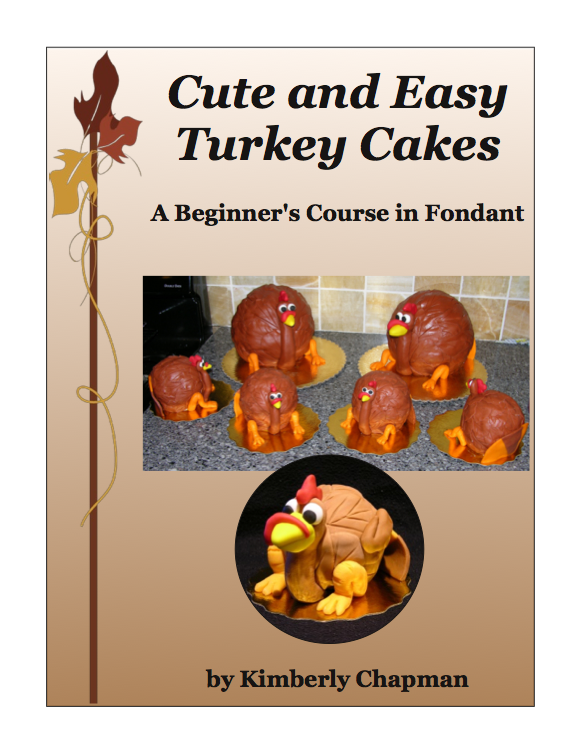 People have been asking me for many years how I made this cake, since it was one of the very first ones I posted to my website. I taught some local classes on the method and decided to post the PDF of the handout for those who can't come to Austin for a class.
This is a perfect cake for those who have always wanted to try fondant or only have limited experience with it and want to go beyond simply covering a cake. The techniques are explained on the beginner level, but more advanced decorators can still pick up some tips and tricks for making this adorable little cake.
The Mini Turkeys in particular are perfect for holiday bake sales, to give as gifts, or to bring to your family feast. Once you know the basics, you can vary them to give them cheeky expressions or even personalize them to suit your family (see this post for some career-style turkeys). Style the comb into a hairdo to match your aunt, make the eyes crossed for your crazy uncle, add a pair of tiny knitting needles under the wing for Grandma, or make it in pastel shades to celebrate a new baby. If I get time, I'm going to make a rainbow one because that amuses me (UPDATE: it's here!). In fact, there's no reason you couldn't extend these instructions out to make other kinds of birds too! Roll out some blue and green balls together and feather the edges for a peacock, or cover in white feathers and skip the snood to make a Gonzo-style chicken.
Imagine how great you'll feel when other folks come to the bake sale or holiday table with store-bought cupcakes and you show up with a half dozen of these beauties!
Cute and Easy Turkey Cakes eBook: only $4.99 at Gumroad
Suggested Equipment
I tried very hard to keep the equipment list to things likely to be around a normal kitchen. Again, this was one of the first cakes I made and I'm not one to buy a lot of specialised equipment. If you've got some nice sculpting tools you can use them, but for the most part this cake can be made with a regular box mix, some buttercream, fondant, a paring knife, something to roll with and on, and some toothpicks.
The only equipment I strongly recommend that you might not already have are the Wilton pans. You can make these cakes without them, but you'll have to either sculpt cake (which is another skill entirely) or make do with alternate shapes. I recommend these pans because I use them for all kinds of things, particularly the large one. I've never made a sports ball, but I've made eyeballs, globes, and Jack O'Lantern cakes with it.
These links are to the Wilton site but you may wish to price-shop around, or use a weekly flyer coupon at your local craft store. I receive no benefit or compensation for recommending these.
Errata/Questions
If any errata come up, they'll be listed here. If you've got questions or want to share a link to your creations, please comment below!
Update: I made a cake ball version! That spares you from having to have a special pan. The only difference (other than size, obviously) is you should wrap a cake ball in fondant or chocolate first so the feathers have something to stick to, and to hold the cake ball together.